Hawaiian Music Masters Concert at the PAC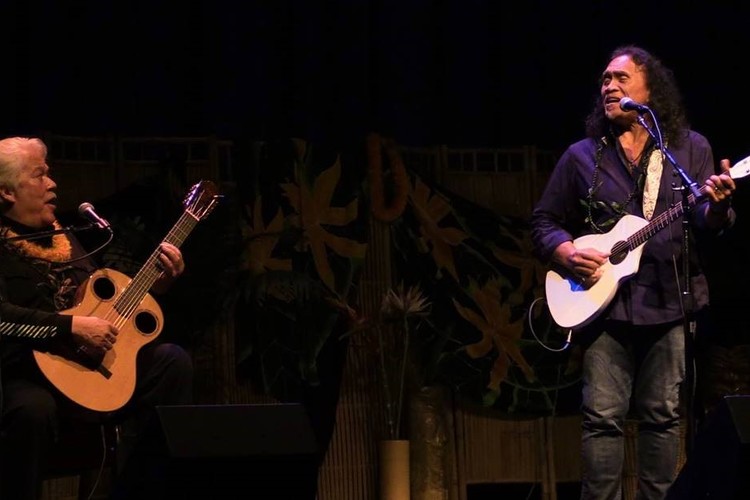 Jan 28, 2018
San Luis Obispo, CA, 93405
San Luis Obispo, California: KEOLA BEAMER and HENRY KAPONO are two legends of Hawaiian music. Each became an icon in the 1970s, both at the creative forefront as Hawaiian music was reinventing itself. They have continued to lead the way for over four decades.
On Sunday, January 28, 2018 at 7 p.m. in the Alex & Faye Spanos Theatre, Cal Poly Arts presents the two popular artists in their LEGENDS show, featuring beloved contemporary Hawaiian classics in a brilliant Island showcase, with special guest artist hula master Moanalani Beamer.
"(Keola Beamer is) the quintessential Hawaiian slack-key guitar master." (The New York Times)
"Kapono is one of the great Island songwriters of his generation." (Honolulu Star-Advertiser)
Keola Beamer's contributions to slack key guitar during the 1970s began to spark public interest, launching a statewide revival of the tradition; his 1978 release, Honolulu City Lights, is the largest-selling recording in the history of Hawaiian music. Today, he is one of Hawaii's premier singer-songwriters, arrangers, composers and masters of the Hawaiian slack key guitar.
Grammy-nominated and award-winning singer and songwriter. Henry Kapono became the wildly popular phenomenon, Cecilio & Kapono (aka C&K), with Cecilio Rodriguez. They helped forge the sound of '70s Hawaiian music, with laid-back contemporary rock that voiced the feelings of an entire generation in Hawaii.
Despite their common history, Beamer and Kapono only performed together for the first time in 2014, when Kapono invited the Beamers to be part of "Back in the Day." That highly successful show featured Hawaii's musical greats who shaped Hawaiian music from the '70s on and who were part of the "Hawaiian Renaissance" – the seminal movement in Hawaii's cultural history that brought language, music, hula, art, and all aspects of Hawaiian culture back to their central place in the life of the Islands.
Student and adult tickets for the performance are from $38.40 and $48 respectively and may be purchased in advance at the Performing Arts Center Ticket Office, Monday – Saturday, noon to 6 p.m, located on Grand Avenue on the Cal Poly campus. The Ticket Office is also open as of noon on all performance days.